Generative AI
Harness the power of AI with trusted solutions 
Redefine the way you work with an unparalleled, industry-leading suite of legal generative AI tools.

CoCounsel Core
Your new AI Legal Assistant
CoCounsel Core's AI technology incorporates expert logic and precision to read, comprehend, and analyse documents to ensure that nothing is overlooked, driving efficiency and accuracy.

Transform the way you work with key legal skills including the ability to summarise vast quantities of research and review documents in minutes.
Be prepared to redefine the way you work, new AI-assisted legal solutions you need to know about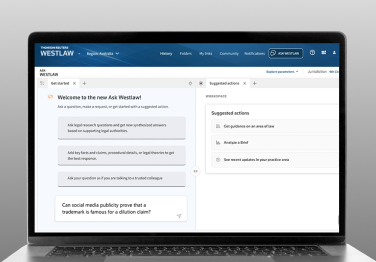 The next generation of Westlaw Australia is coming
A new AI-assisted Westlaw Australia will provide accurate, reliable answers faster than you ever thought possible – just like the Westlaw you know and trust, but more powerful.
Master the art of Intelligent Drafting
Intelligent Drafting leverages state-of-the-art AI technology to complement your unique expertise, plus integrates seamlessly with Thomson Reuters trusted solutions and Microsoft CoPilot to help navigate the complexities of contract drafting with ease.
Unlock greater legal insight with generative AI in Practical Law
Imagine smarter, faster access to countless how-to guides, forms, templates, and checklists, all maintained by more than 650 lawyer-writers worldwide. All that knowledge, combined with the power of generative AI, will be right at your fingertips.