ONESOURCE DataFlow 
Streamline with
end-to-end tax data management 
Reduce time spend on data collection by transforming how you gather, store and reuse tax data.

What can ONESOURCE DataFlow do for you?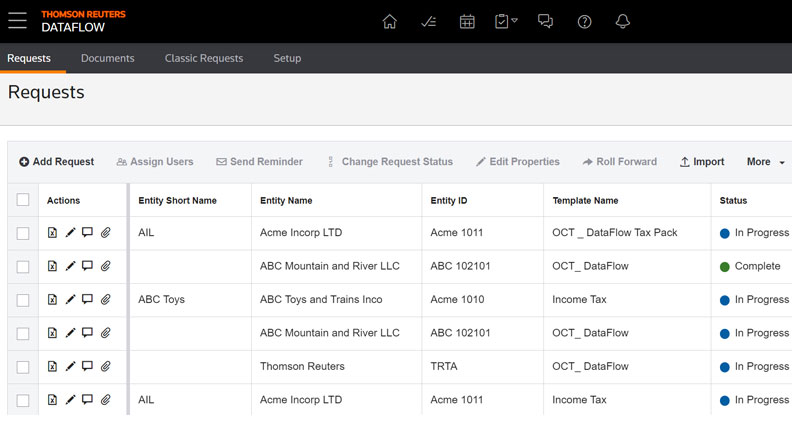 Boost accuracy, increase efficiency
With controls, validation, year-over-year data recall, and automated rollovers, reduce preparation time during the time-sensitive tax filing season and flow data directly from the source to your tax applications. Spend less time fixing mistakes, and more time focusing on what you do best. Our customers have seen 10,000 hours reduction in their overall tax compliance and provision process.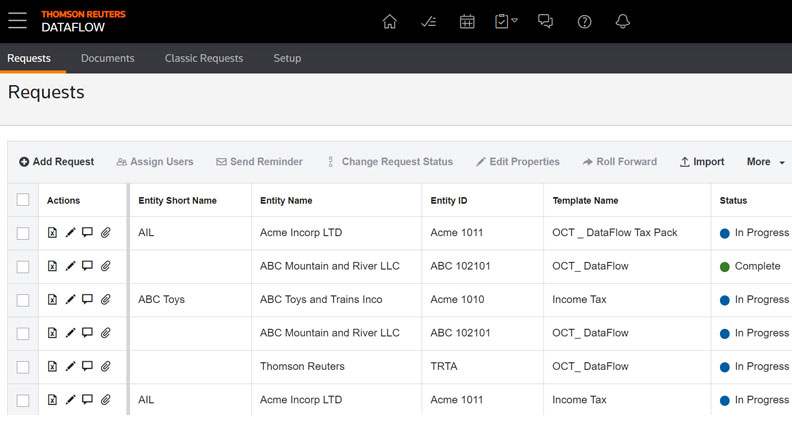 Better connectivity, reduce risk
Standardise, organise, and optimise your data at every step. Extract company tax data for any processes, including tax provisioning, compliance and reporting. Receive all the correct data you need up front with build-in diagnostics and data validations.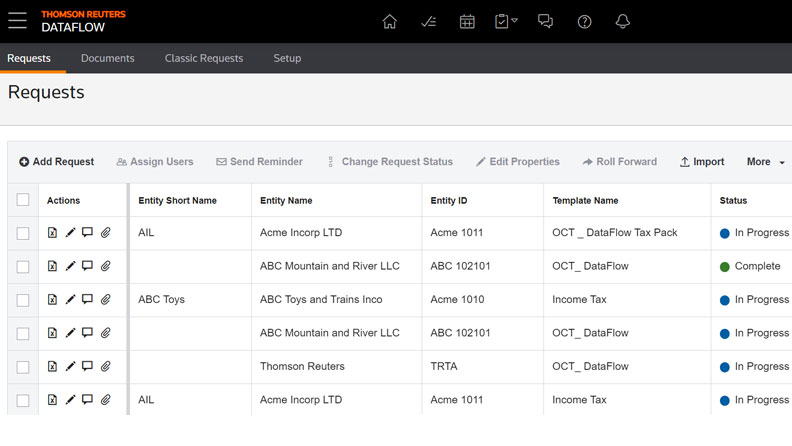 Increase control, deliver transparently
From workpapers to tax packages, to section 199 calculation requests, you'll have the data readily available when you need it. Enjoy greater accuracy and have total control of your existing tax packages with additional structured storage. 
Other key features of ONESOURCE DataFlow
Centralised data
Extract maximum value as you easily aggregate and consolidate information from around the globe using our web-based tax management platform, eliminating the need to rekey data, leaving no room for human error. Anyone you work with can review and use it in real-time.
Workpaper standardisation
Organize tax workpapers by creating customisable templates which can be rolled forward with automation and used across processes to significantly reduce the upkeep required for multiple Excel schedules.
Security and access controls
Set up roles and responsibilities for each user. Determine how and where to enter data, perform reviews, or consolidate data across processes.
The value of ONESOURCE DataFlow
See how it works
As your company grows, ensure your tax teams maintain seamless access to continually updated data with ONESOURCE DataFlow. Watch this video to learn how you can leverage our data management solution for your compliance needs.
Flexible access with APIs
Manage your entire tax preparation process with the tools of your choice and create custom dashboards with easy access to information that has been regularly updated.
Hear what our customers are saying:

"

Tax teams are coming a bit late to the game with IT – but it's undoubtedly the way things are moving. I was more of a 'quill and ink' man so if I can use the solution, anyone can.

"
Hendrik Bulle, Managing Director Group Fiscal Affairs, Robeco Group NV (RGNV)

"

We've been able to realize huge time savings using ONESOURCE DataFlow. We've been able to process 300-400 international tax returns a year with a minimum of staff — you are able to integrate directly and not have to manually manipulate the data every time you get something from a data provider, so it's been fantastic in our respect.

"
Jean Blackstone, Senior Tax Manager of International Reporting, Liberty Global