with Sarah Jacobson, Director of Knowledge Management
Why Practical Law is key to legal productivity at MinterEllison
MinterEllison is a full-service commercial law firm and one of the largest in Asia Pacific. The firm has approximately 2,800 fee earners and provides legal and consulting services. Its knowledge management team oversees legal research, business research, precedents and knowledge systems.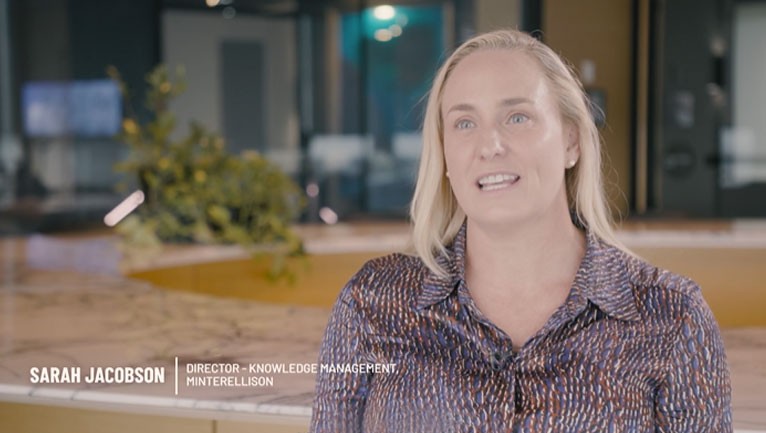 03:39
Inconsistent quality of internal know-how content
A key challenge facing the firm was ensuring that all the information in its knowledge database was always up to date. It relied heavily on fee earners to update internal know-how, but they were often too busy to do so. "We had collated information on the intranet before, but over time it didn't get maintained and then people didn't trust it. A lot of the material we had over time got out of date," said Sarah Jacobson, Director of Knowledge Management at MinterEllison. "There was also a clear lack of ownership around who was going to update that material."
The firm's internal knowledge database included some standalone resources on case law and legislation, but these often lacked sufficient background information for the uninitiated. Consequently, the firm's junior lawyers sometimes struggled to understand the context and practical application of the content. "They may have rotated into a new practice area, and so getting up to speed on a new area of law can be quite tricky," commented Jacobson.
In recognition of these knowledge gaps, the firm introduced a new knowledge strategy. A key priority of that strategy was having a centralised and integrated knowledge ecosystem that included a precedent repository. The goal was to ensure "fee-earners have at their fingertips all of the tools that they need to do their jobs every day," said Jacobson.
For her, having the right tools is particularly important to ensure all fee earners are fully engaged and working at optimal efficiency levels. "We know from Gartner and Forrester feedback that employee engagement is at its highest when people have the tools they need to do their job."
Smooth and rapid implementation process
"The rollout for Practical Law was really seamless. To be honest, it was one of the easiest products I've rolled out within the firm,"
Current and reliable resources, all in one place
The firm has experienced across-the-board gains in lawyer efficiency and effectiveness, with junior and senior lawyers alike able to get up to speed and validate their work quickly using trusted content.

---
An expert, current and comprehensive legal research platform

Jacobson determined that MinterEllison needed an expert legal know-how resource that could consistently provide up-to-date and high-quality legal content for multiple jurisdictions. "As a full-service law firm, we really needed an extensive resource that covered multiple areas of the law and we really needed something we could trust," she reflected.
MinterEllison scanned the market for legal research solutions as part of its due diligence. After careful consideration, the firm decided that Practical Law would best suit its requirements. "What is great about Practical Law is that it gives context around a particular area of law," said Jacobson. "Whether it's real estate or M&A, our lawyers can find everything they need in one spot."
The firm chose to invest Practical Law after carefully assessing how the product and its vendor could support the business. "Thomson Reuters helped us with our decision to take out Practical Law by providing us with an extensive trial across all of the modules for our entire firm," recalled Jacobson.
Thomson Reuters also set up customised sessions with Practical Law's subject matter experts to strengthen fee-earner confidence in the solution. "The sessions really helped us because our fee earners were able to meet the subject matter experts behind the content and understand how the product worked," said Jacobson. "That really helped us to build credibility and trust for the product and for the people behind the content. The legal writers are experienced practitioners and they really know their stuff."
Jacobson was delighted by how smooth and rapid the implementation process for Practical Law was across her full-service law firm. "The rollout for Practical Law was really seamless. To be honest, it was one of the easiest products I've rolled out within the firm," she said. "Our lawyers and consultants engaged with it really positively from day one and we've received nothing but positive feedback. It's so lovely to get emails from people saying 'thank you so much for this resource'."
It was really terrific partnering with Thomson Reuters for our Practical Law rollout.
Across-the-board gains in lawyer efficiency and effectiveness

MinterEllison's fee earners continue to engage with Practical Law regularly and enthusiastically. Lawyers across the firm have given very positive feedback about how the expert know-how solution has strengthened their legal practices. They are particularly impressed by the comprehensiveness of the international legal content.
"On a day-to-day basis, we use Practical Law across most practice groups. The weekly email updates are really popular, particularly in our workplace, dispute resolution and corporate practice groups. The ESG content is also really comprehensive," said Jacobson.
Her team has received a lot of "really good feedback" from fee earners about the usefulness of the platform's features, including the guidance notes, practice notes, checklists and workflows. "A partner the other day said how much he loved the workflow diagrams in the property space," Jacobson recalled.
One lawyer who recently moved from London to Australia described Practical Law as a survival guide for managing in a new jurisdiction.
The legal know-how resource has proved very popular with junior and senior lawyers alike. "We get a lot of good feedback from the senior lawyers," said Jacobson, who noted that they often use Practical Law to "sense check" their work. "They may draft a document and then they'll go in and check the Practical Law precedent and check that they've covered all the major issues."
Similarly, Practical Law has proved to be a powerful upskilling resource for junior lawyers, enabling them to be more efficient and effective in client work. "Our junior lawyers are probably our biggest users of Practical Law," said Jacobson.
For our juniors, particularly our graduates who are rotating into new practice areas, they go in and use Practical Law to really get up to speed on an area of law quickly. Having all the various resources in one spot is really valuable to them.